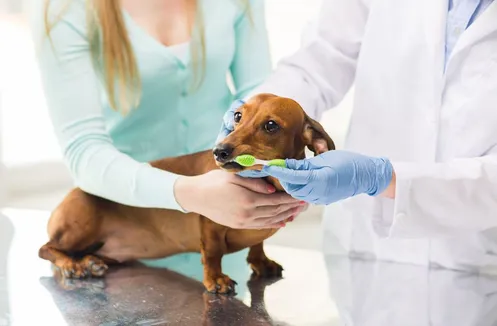 Pet Dental Care Veterinarian in Conway, AR
Many pet owners only understand the importance of pet dental care once it's too late. At Chestnut Animal Clinic, our Conway, AR, veterinarian can help your pet maintain good oral health through every stage of life.
Yet, poor dental care is one of the most common health problems we see in pets. Usually, the damage is severe when most pet owners bring their animal companions in for treatment. In some cases, it can even be life-threatening.
That's why at Chestnut Animal Clinic, we recommend regular dental checkups and cleanings for all our patients. We also provide various other services to keep your pet's smile healthy and bright!
Why Is Pet Dental Care Important?
There are several reasons why proper dental care is so essential for pets. First, it's crucial for maintaining their overall health. Like humans, the mouth is full of bacteria. When that bacteria isn't removed, it can lead to severe problems, including gum disease, tooth loss, and infections.
Studies have shown that gum disease in pets is linked to several other health problems, including heart disease, liver disease, and kidney disease. So by keeping your pet's teeth clean, you're helping keep their entire body healthy!
Dental problems can be excruciating for animals. It will be unbearable if you go months or years without brushing your teeth. Yet, pets can't tell us when their mouths hurt.
How Our Veterinarian Doctor Can Help
Whether you need pet dental services for exotic animal care or looking for a Conway, AR, animal hospital that provides routine teeth cleanings, we can help. Our experienced veterinarians and technicians are committed to providing the highest quality care for all our patients. We offer a wide range of dental services, including:
Digital Dental X-Rays: This state-of-the-art technology lets us get a clear and detailed picture of your pet's teeth, gums, and jawbone.
Ultrasonic Scaling: This painless procedure uses a specific tool to remove plaque and tartar from your pet's teeth.
Oral Surgery: Our veterinarian may sometimes recommend oral surgery to correct serious dental problems.
Help Your Pet Have a Healthy Smile at Chestnut Animal Clinic
No matter what type of care your pet needs, you can rest assured that they'll be in good hands with our team at Chestnut Animal Clinic. We're committed to providing the best possible care for all our patients!
If you have questions about our pet dental services or would like to schedule an appointment, contact our vet clinic at (501) 327-4413. We look forward to helping your pet maintain a healthy and happy smile!